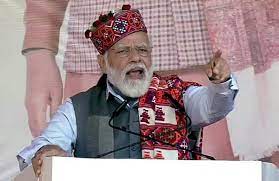 The state government has implemented various new welfare schemes with a view to uplift every section of the society. Focused on the elderly, youth and women these schemes not only strengthen their socio-economic status but also bring positive change in their lives. HIMCARE, Mukhya Mantri Grihini Suvidha Yojana (MMGSY), Mukhya Mantri Sahara Yojana and Mukhya Mantri Swavalamban Yojana (MMSY) are proving beneficial for the people of the state.
4.53 lakh people benefitted under Ayushman Bharat and HIMCARE
For the free treatment of the people, 4 lakh 31 thousand families of the state are registered under Ayushman Bharat, a comprehensive health insurance scheme launched by the Government of India. So far, 1 lakh 45 thousand patients have been given free treatment under the scheme, on which Rs. 178 crore has been spent.
The state government with the vision to increase the ambit of health care in the state has started HIMCARE yojana so that even those people of the state who could not join the Ayushman Bharat scheme could be benefitted. Under this scheme 6 lakh 18 thousand families are registered in Himachal. So far 3 lakh 8 thousand patients have been given free treatment under HIMCARE and 285 crore have been spent on this. The double engine government has spent about Rs. 463 crore on free treatment of 4.5 lakh people through these two schemes.
More than 20 thousand are getting the benefit of CM Sahara Yojana
The state government has implemented Mukhya Mantri Sahara Yojana, first scheme of its kind in the entire country which intends to help the needy who have become dependent on others due to serious illness. At present by spending an amount of about Rs. 80 crore, 20 thousand needy people in Himachal are being provided 3 thousand rupees every month.
Rs. 159 crore spent on domestic gas connection
Himachal government is determined for women empowerment. Taking care of the health of women and to keep them safe from diseases caused by smoke of traditional wood fired stoves like asthma and eye diseases, etc., and providing them with environment friendly alternative the central government has started Pradhan Mantri Ujjwala Yojana, through which free domestic gas connections were distributed to women. Under this scheme, 1 lakh 37 thousand gas connections were distributed in Himachal, on which Rs. 28.15 crore has been spent. While universalizing this scheme of the central government, the state government implemented the Mukhya Mantri Grihini Suvidha Yojana to provide free domestic gas connections to the poor families who could not get the benefit of Ujjwala scheme. Under the scheme, 3 lakh 32 thousand domestic gas connections were distributed, on which Rs. 130 crore has been spent. Presently Himachal has become the first state in the country where every household has a domestic gas connection. The government of double engine has provided free gas connection from door to door by spending more than Rs. 159 crore in this. In this way Himachal is also the first stove smoke free state of the country.
More than 11 thousand got employment under MMSY
The main objective of Mukhya Mantri Swavalamban Yojana is to promote self-employment in the state. Through this scheme, unemployed youth of the state are getting encouraged to set up self-employment and are becoming self-reliant and self-reliant. Through this scheme, the state government is providing 25 to 35 percent subsidy to eligible youth on investment of up to one crore rupees. A total investment of Rs. 721 crore was made under the scheme. Under this scheme, a gratuity amount of Rs. 200 crore was provided by the government. A total of 4377 units were approved in this, out of which 11 thousand 674 people have got employment.
More than 17 crore Shagun on daughters marriage
Mukhya Mantri Shagun Yojana has been started for the first time in the state to provide financial assistance on the marriage of daughters of BPL families. On the marriage of a daughter belonging to BPL family, financial assistance of Rs. 31 thousand is given by the government as Shagun. So far, financial assistance has been given to the marriage of 5 thousand 621 daughters under this scheme. Rs. 17.42 crore has been spent on the scheme. In this way, with the spirit of Sarvajan Hitay-Sarvajan Sukhay, the State Government is constantly implementing new schemes for the welfare of all the people of the state, from which all sections of the society are getting benefitted.