Chief Minister Thakur Sukhvinder Singh Sukhu joined citizens at Mall Road Shimla today to watch the India-Australia Final match of the Cricket World Cup 2023. The Municipal Corporation Shimla facilitated the event's accessibility by installing a sizable LED screen for the public.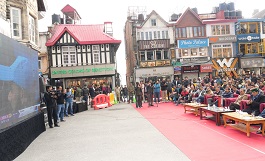 Earlier, the Chief Minister also inaugurated a vibrant mural near the police control room, which is a creation of Prof. Him Chatterjee and crafted by artisans from West Bengal, intricately capturing the folk culture of various districts of the state.
Commending the Municipal Corporation Shimla for its efforts, Thakur Sukhvinder Singh Sukhu emphasized the significance of tourism and hydropower generation as pivotal revenue streams for the state. He said that the government has laid special focus to bolster tourism and increase the tourist influx in the State and many steps have been taken in this regard.
Deputy Chief Minister, Mukesh Agnihotri, Health Minister, Dr. (Col) Dhani Ram Shandil, Education Minister, Rohit Thakur, Public Works Minister, Vikramaditya Singh, MLAs Harish Janartha and Suresh Kumar, Principal Advisor (Media) to the Chief Minister, Naresh Chauhan, Mayor Municipal Corporation Shimla, Surender Chauhan, Councillors and other dignitaries were also present on the occasion.
Himachal Pradesh's Plan To Boost HAM Amateur Radio