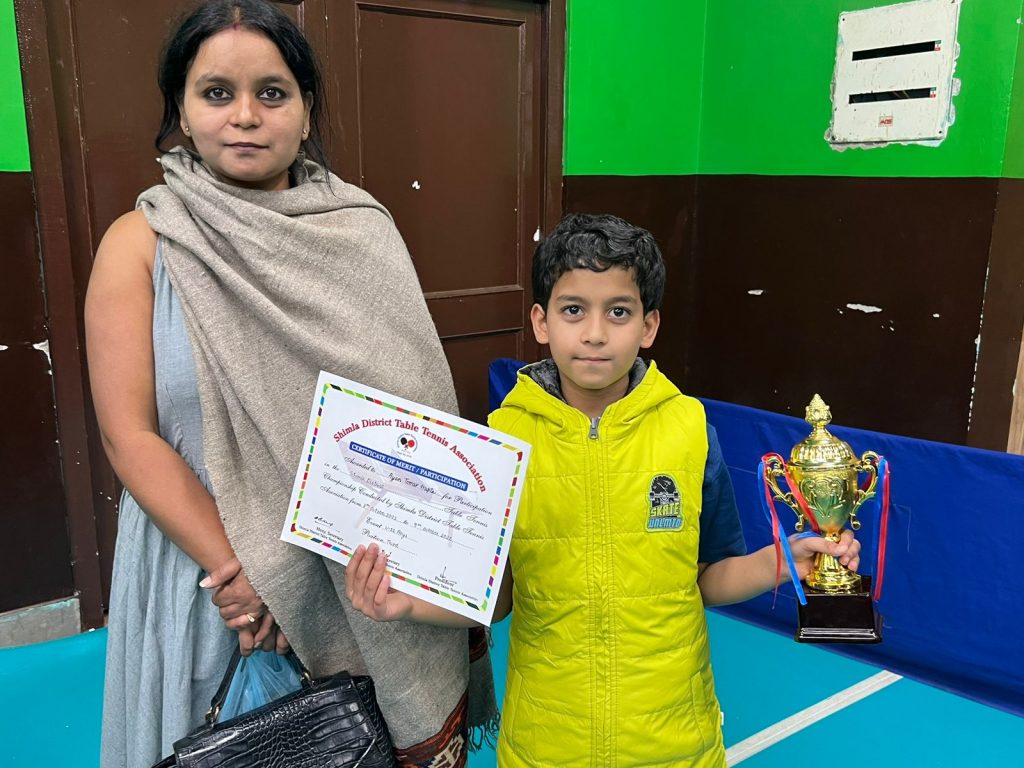 Sangeeta Sambhi, Keekli Intern
"My motive in life, is to do something of profound value, for the family I belong to, for the school I am being educated in, for the beautiful queen of hills I reside in, and of course, for the country of diversity I am being brought up in."—Ayan Tomar Gupta
A nine-year-old, is too small to achieve such great heights. This is a statement very often heard from those who are wise. But Ayan, a merely nine-year-old boy from Shimla, happens to be a prodigy in two lines of sports; Table Tennis and Ice Skating. His passion for sports, comes from his parents' encouragement, and his strong will to achieve his goals.
In popular opinion, of those who remain close to him, state, that he is a dedicated and determined boy, who believes in the ideal of balancing life with both curricular and extracurricular activities. He is not only good at playing in the stadiums, but shines out exceptionally in his classroom too. Except for ice skating and table tennis, Ayan also takes deep interest, in learning how to swim, and swirls around practicing roller skates. His journey as a budding sportsperson, started when he was four, as his parent then moved from Bangalore to Shimla. Since then, he has dedicated his time towards sharpening his skills in the respective field of sports. Studying at St. Thomas' School, Shimla, Ayan is all set to become one of the celebrated players in the upcoming years.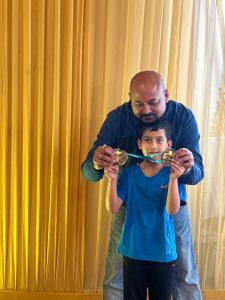 Keekli:  At what age did you start skating?
Ayan: I started skating at a very young age of four. Many people wonder, if I ever took training on a professional note to be good at it, but the truth lies in the fact, that I am a self-taught aspiring-to-be sportsperson. When I lived in Bangalore, there used to be a balcony, where I practiced roller skating.
Keekli: What made you incline towards skating?
Ayan: When I came to Shimla for the very first time, I noticed few enthusiasts, gliding on roller skates. It was at that moment, I thought that I wanted to be a skater!
Keekli: Who was your first teacher or coach?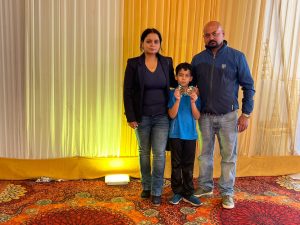 Ayan: As such I have had no professional coach.  If I had to mention, it was my father who came out to be my very first teacher. He was the one, who taught me from scratch, and made me who I am today. Other than that, when my mom suggested me to join the roller-skating club in Shimla, over there, I saw a boy, who was performing well while skating. That too contributed as one of my motivational factors to take up skating professionally.
Keekli: How did you come up with the idea of representing India at national level?
Ayan: I stared, by practicing the art of mastering roller-skating. I did so, only to sharpen my skills to perform ice-skating. Along the lines of practicing, the idea of representing my state, at national level dwelled in my mind.
Keekli: How do you feel after representing your city at Ambience Mall, Gurugram?
Ayan: It was a moment of great pride for both me and my family, when I got to know about my achievement. The competition was tough and the players representing their respective cities, were also well-trained and extremely talented.
I got to know about the competition being held at Ambience Mall, Gurugram, through the Shimla Ice Skating Club. They recommended me as well as sponsored my budding enthusiasm, towards achieving great heights. At first, I played well to compete through various rounds of the competition, under the below eleven-category, hence, paving my path through the finals.
Keekli: Who inspired you to play table tennis (TT)?
Ayan: As a child, I was keen to practice swimming. But when I visited the Indira Gandhi State Sports Complex, Shimla, I noticed that table tennis was a nice sport, which ignited in me the desire to play. Henceforth, I started playing more regularly and was taught by one of the professionals assigned in the complex itself.
Keekli: Where all have you represented or participated as table tennis player?
Ayan: I have had the opportunity of playing TT four times. I played in an interschool competition for the very first time, but unfortunately, I could not secure a position. Nonetheless, I worked harder and harder each day, thereafter, I was recommended to represent Shimla at the District Level, wherein, I stood third. Not only this, my previous win was a qualifier for I was then selected to play at the State Level, henceforth, I again bagged the third position.
Keekli: How did you feel after securing the third rank in TT district championship?
Ayan: It was a moment of satisfaction for me, it felt as if I had gotten one step closer to my ultimate goal of doing something for the country. My coach Abhay Lakhanpal, recommended and trained me to play at the district level.
The district level TT competition was organised under the head of 'Khelo India Youth Games' initiative, and I participated under the category of below eleven. It took place in Nagrota, a village in Kangra, in Rainbow International School. Thereafter, it was all-hail for the opportunities that came my way.
Keekli: How do you feel after winning the third position at the state level TT championship organised by HPTTA? What is your source of motivation?
Ayan: My source of motivation in all this time was my will to do something that brought good reputation to my family, to the school, to the beautiful queen of hills I reside in, and of course, to the country I am being brought up in. My source of motivation also lied in the strong belief of friends, family and my coach, under whose guidance I was able to represent my city at the state level. It was a surreal experience overall.
Keekli: Which sport do you like more—ice-skating or TT?
Ayan: Well, I think I am too small to differentiate between the two. All I would like to state at present is that I am enjoying being a budding sportsperson. It brings enormous joy and satisfaction, to play either of the sport. And every time, I am invited to play, I play with wholesome effort, grit, tact, and determination.
Keekli: Which is your favourite subject?
Ayan: My favourite subject happens to be Mathematics. I think it is something with the numbers, which keeps me intrigued.
Keekli: Where do you see yourself five to ten years from now?
Ayan: Five to ten years from now, I can visualise myself walking on the footsteps of becoming a budding sportsperson and giving my best to make my parents and country feel proud of me.