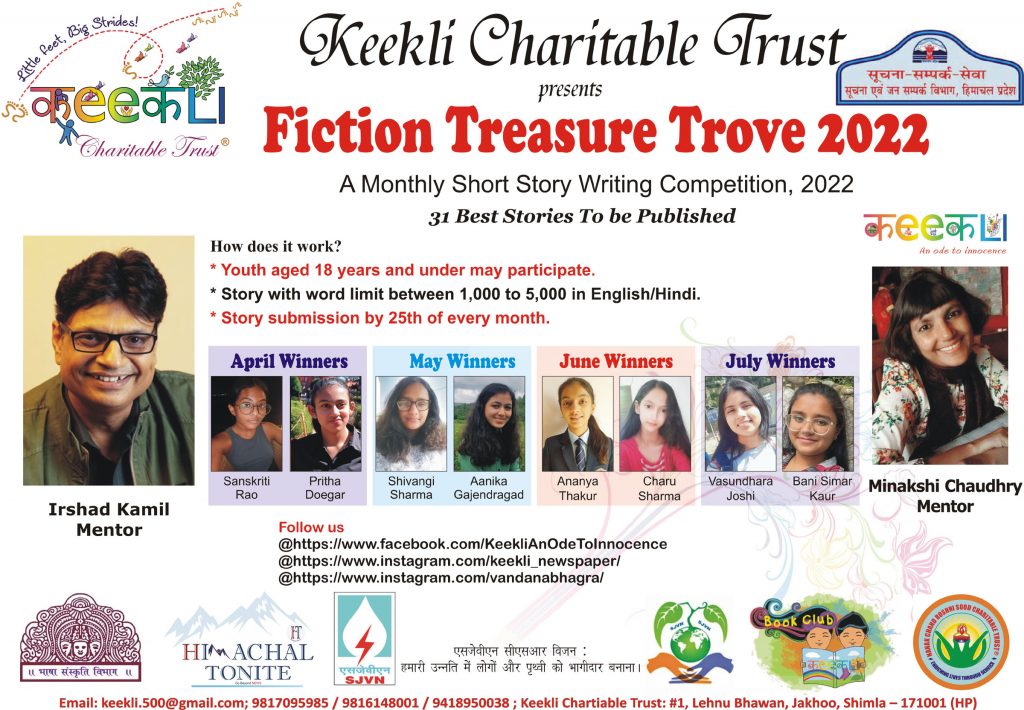 Heartiest Congratulations to all the winners and a huge round of applause for all our young participants who took the time to write and share their stories. The much-awaited results are here as we have our top 31 stories that will now be featured in an anthology. The judges definitely had a tough task on hand as the marking was quite close.
Our Top 8 cash awardees are: Sanskriti Rao; Pritha Doegar; Shivangi Sharma; Aanika Gajendragad; Ananya Thakur; Charu Sharma; Baani Simar Kaur; and Vasundhara Joshi.
The next step will be editing of these stories as well as another surprise for you all! A message to all our participants is also shared through an Email. We also appreciate and acknowledge our associates — Information & Public Relations Department, Himachal Pradesh; SJVN Foundation; Department of Language Art & Culture, Himachal Pradesh; Media Partner Himachal Tonite; and all the anonymous donors who believe in us and support us unconditionally.
Gunjan Batra, Storyteller & Journalist; New Delhi said, "Being on the Jury was an amazing experience as one got to delve into the way children think today. Their creative ideas, the command over the language, and the twists and turns their stories took kept me hooked. It's great to know there is a whole generation of budding writers out there whose imagination is unfettered and raring to go!"
Astha Chadha, Storyteller & Media Professional; Gurgaon shared, "It was a wonderful experience for me to be a part of the Jury. I am amazed to see the creativity and imagination of our budding writers at such young age. Clear thoughts, command on language, expressive flow of words, everything was commendable. I am sure the future of Indian writing is in great hands. Wishing all of them a bright future!"
31 Winners
| | | | | | | |
| --- | --- | --- | --- | --- | --- | --- |
| Sno | Name | School | City | Class | Age | Story Title |
| 1 | Sanskriti Rao | Sharada Mandir School | Goa | 10 | 15 | The Ways Of A Feline |
| 2 | Shivangi Sharma | Auckland House School | Shimla | 9 | 14 | Spirit of the Heart |
| 3 | Aanika Gajendragad | Homeschool | Bangalore | 10 | 15 | The Rose |
| 4 | Aarya Sharma | Loreto Convent Tara Hall | Shimla | 10 | 14 | Wild |
| 5 | Atharv Vats | Modern School | Sonipat | 8 | 13 | Flare (A Friend) |
| 6 | Lavanya Muni | Auckland House School | Shimla | 6 | 11 | Vartika and the Four Gems |
| 7 | Pritha Doegar | Auckland House School | Shimla | 8 | 14 | IT Seeks Revenge! |
| 8 | Devina Bedi | Kunskapsskolan School | Gurugram | 6 | 11 | A Winter in Manali |
| 9 | Yashita Verma | Loreto Convent Tara Hall | Shimla | 10 | 15 | The Train On Station 10 |
| 10 | Vasundhara Joshi | Loreto Convent Tara Hall | Shimla | 10 | 15 | The Stranger |
| 11 | Baani Simar Kaur | Auckland House School | Shimla | 11 | 17 | Into the Oblivion |
| 12 | Asmi Bhardwaj | The HDFC School | Gurugram | 7 | 11 | Road Trip |
| 13 | Rudra Chauhan | Arunaya Shine Institute | Chandigarh | 11 | 15 | Devdar ka Ped |
| 14 | Charu Sharma | Alpine Public School | Nalagarh | 10 | 14 | BISHU |
| 15 | Ayesha Az Zahra | Cambridge school NFC | New Delhi | 5 | 10 | The Two Brave Little Mice And The Big Bad Cat |
| 16 | Annam Tarique | Cambridge School NFC | New Delhi | 5 | 10 | Bob Who Made His Way |
| 17 | Shuban Dey | Kendriya Vidyalaya IIT Powai | Mumbai | 7 | 11 | Auro and his Friends Rescues the World |
| 18 | Sarthak Jain | Delhi Public School | Greater Noida | 9 | 13 | When Ravana Kidnapped Sita |
| 19 | Ananya Thakur | Loreto Convent Tara Hall | Shimla | 7 | 12 | The Magical Garden |
| 20 | Aaron Rai | St Edwards School | Shimla | 8 | 12 | The Secret Door To The Other World |
| 21 | Jahnvi Sharma | Shri Ram Universal School | Hyderabad | 6 | 10 | The Wizard's Magical Cloak |
| 22 | Kiaan Amrik Thakur | Dayanand Public School | Shimla | 7 | 12 | The Future A Better Place |
| 23 | Anvesha Pathania | Mount Carmel School | Kangra | 10 | 14 | Life of A Little Girl |
| 24 | Aarzu Kumra | Auckland House School | Shimla | 8 | 14 | The Voice |
| 25 | Veda Bragta | Loreto Convent Tara Hall | Shimla | 5 | 10 | The Fake Time Machine |
| 26 | Paavani Dubey | Emerald Heights International School | Indore | 7 | 12 | A Special Guest |
| 27 | Kritika Changra | Alpine Public School | Nalagarh | 9 | 13 | Aashaa ki Aashayen |
| 28 | Vaishnavi Thakur | Eicher School Parwanoo | Kalka | 8 | 12 | A Dream Come True |
| 29 | Sirisha Chauhan | Convent of Jesus & Mary | Shimla | 12 | 15 | Twin flames: The infamous murder |
| 30 | Kiratnoor | V.R Sr Sec Public School | Baddi | 10 | 14 | Amaanat |
| 31 | Agrita | Alpine Public School | Nalagarh | 6 | 10 | Princess Aurora and Diamond Crown |