Winners of Keekli's Fiction Treasure Trove — 2022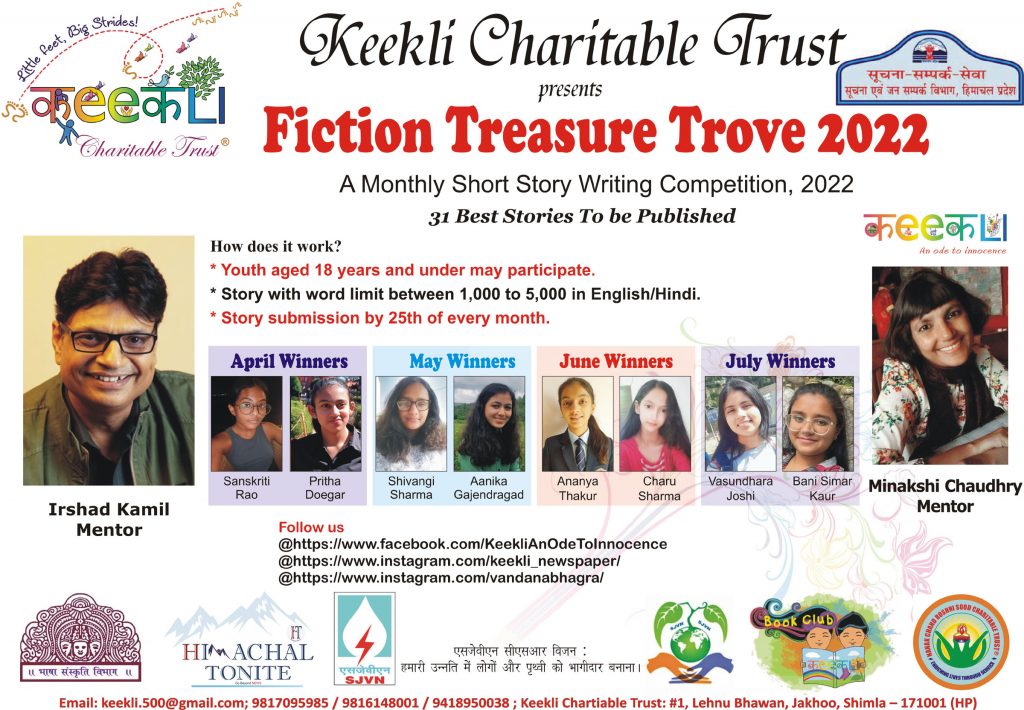 Keekli Charitable Trust Presents Fiction Treasure Trove -- 2022
A Monthly Short Story Writing Competition Starting from April 1, 2022
4 Monthly Competitions; 2 Monthly Winners Receive Cash Prize;
31 Best Stories To be Published
The cash award for our monthly winners has been sponsored by Nanak Chand Roshni Sood Charitable Trust, Shimla. We also appreciate and acknowledge our associates — Information & Public Relations Department, Himachal Pradesh; Department of Language Art & Culture, Himachal Pradesh; Media Partner Himachal Tonite; Radio Partner BigFM; and all the anonymous donors who believe in us and support us unconditionally.
How does it work?
Youth aged 18 years and under may participate.
Word limit — 1,000 to 5,000 words; both English and Hindi submissions are acceptable.
Story submission by 25th of every month.
You will be required to upload your story on www.keekli.com; link to a FORM will be made available every month.
Each month two winners will be awarded cash prizes.
A long-list of the best stories will be announced every month.
The four-month-long contest will culminate with the publication of 31 Best Short Stories in an Anthology.
Attend monthly Creative Writing Workshops and Webinars.
Important:
You may participate every month to try a chance at winning and being published.
Only one best stories per child will be published in the Anthology.
The TWO CASH Awardees will be given an assured place in the book. However, they may still share their stories in the upcoming monthly competitions.
Only typed stories – Hindi / English are acceptable.
Follow us
@https://www.facebook.com/KeekliAnOdeToInnocence
@https://www.instagram.com/keekli_newspaper/
@https://www.instagram.com/vandanabhagra/
Email: [email protected]; 9817095985 / 9816148001 / 9418950038