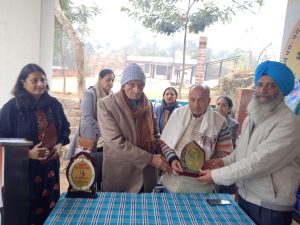 Members of Advaita Foundation celebrated Republic Day in the Senior Secondary School Sanhal in Sanhal village with the school children and staff members. The members distributed school cardigans and shoes to 180 students. Refreshments were also distributed to all children.
The objective is to promote true patriotism and to inculcate the values of freedom and to respect the country with our little contributions for this society. Two retired army personnel who served for 28 years in the army, Subedar Rakesh Chand and Captain Jagjeevan Singh, were also honoured by the Foundation.
The members also thanked the chief guest Sunita Agnihotri who offered free dental services to the school children and retired Principal Madan Lal for his motivational speech, Principal Ashwani Kumar Prasher and all staff member of the Sanhal School.