Nanak Chand Roshini Sood Charitable Trust and Keekli Charitable Trust presented an amount of Rs. 5,000/- each to two minor cancer patients Master Arpit, seven year old boy, son of Mr Umbalu from Bilaspur and Mastet Bhagyam, three year old boy, son of Mr Raju from Solan for Bone Marrow Aspirations. Bhagyam's siter collected the cash on his behalf. A total of 20,000 was given to them for the treatment. A third child whose tests are scheduled for later this week will also receive the same grant amount.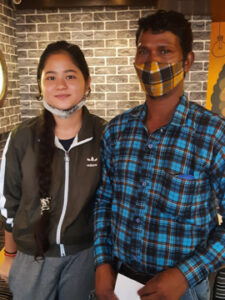 KEEKLI is a journey which was embarked on to bring about a new hope in education, health and social welfare. Keekli Charitable Trust is a non-profit organization established with the aim of committed work in the field of children's education, health, environment, women empowerment, hygiene and other social welfare schemes. We believe that unless people in general are proactively involved in welfare projects, it is difficult to help people at large.
President Sanjay Sood, Nanak Chand Roshini Sood Charitable Trust, Shimla, informed that to mark the 100th Birth Anniversary of Mrs Roshini Devi, his mother, this grant was given. He further added that the trust works towards the upliftment of poor and the needy and monthly stipends are given to few destitute elderly. We aim to sensitize and involve more and more people in our endeavours.
Keekli Charitable Trust President, Vandana Bhagra said that the Trust has adopted IGMC's Children Ward in the year 2019 and ever since they have been contributing for the welfare of children by way of donating medicines, clothes, sanitizers, rations and need based-items. Their aim is to act as catalysts to bring about an effective social transformation. The overall goal is a sustainable impact on health, education, empowerment of girls, environment and hygiene, especially pertaining to children.