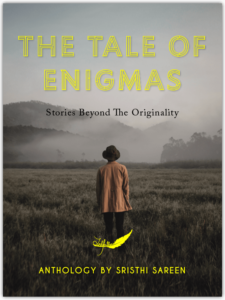 Munmun Aidasani
The book that I picked to read and review was only because the idea behind it fascinated me.
The Tale of Enigmas is an anthology by Srishti Sareen that includes 30 thrilling stories somewhere based on originality and has something hidden deep underneath and will surely keep you engaged and you would crave to know what will happen next? All stories in this book have a hint of nothingness along with its grey areas, that can bring chills down your spine, and tell you how two souls can live together in one body for real. It's the heart triumph over the mind or it's the other way around?
In the story, "At 12 am, we see the difference"  by Tejasvee Nagar. Here the writer has highlighted Midnight: is a bridge between what is to come and what has passed. Tresa Neveris – the role model of her story, a keen literature enthusiast; was tired of a character from her novel which was overpowering her. The characters in her novel were breathing life into Tresa, they were making her a puppet and controlling her strings. She was petrified of not being able to figure out things… But at last how Tresa was able to control the character, and how the characters would stay with the writer and not turn into realistic fairies or monsters? For that, you have to read this book which will keep you glued till the end.
Life is an Enigma by Deepika Ganu. The feeling of helplessness is just momentary but when these feelings play with your mind… They create havoc and void full of resentments. Aadi the character in the story was hanging between reality and illusion… But how Diya brightened his life and brings the good in him is the central idea of the story, how she helped Aadi to cope up with his fears and dilemmas. Must read.
Faulty Hope of Dawn by Sumeet Doondani highlights that happiness and light reside within us and we are madly seeking it outside. In the story, you would find how Hannah and Miley's bond became stronger and their lives continued to be in the state of harmony forever.
The Tale of Two Sisters by Swikriti Lahoty is a story that will surely give you goosebumps. A girl narrating her story about how the cruel behavior of her own family ended in disaster. It's definitely a lesson for the parents and the society. How she was blamed to kill her twin sister in her mother's womb and how she lost her voice, the voice that could have given her freedom to fight.
Well, I would like to sum up with a story Dark Desires by Munmun Aidasani. Have you ever felt a little void of darkness and a ray of hope residing somewhere deep inside of you both at the same time. A world where you can do anything and everything. It was impossible to conclude the story till last and it would surely keep your interest intact and your mind will surely keep on thinking what next till you reach the end. In-depth it is hidden and seeks to go on in Riya's brain who was alone from her childhood and found the best companion inside her only…. it's truly amazing and worth reading. It portrays that sometimes brutal and unrealistic pictures or visions lead to worst cases or scenarios to happen.
Those who are interested in reading suspense and thrillers would definitely restrain from reading this book! Srishti Sareen mostly prefers to come up with a theme of darkness and romance, these are her safe zones to play with and she is quite confident and comfortable in this genre. She started to pen down her thoughts in the form of poems in her teenage but as a professional writer, she started in the year 2020. She has contributed her work in the anthology  "Three bodies one soul." one of the stories from that anthology was molded from an old story she wrote but never finished. Till now she has co-authored 7+ anthologies and a few more are in pipeline. She is working on a new anthology "Always Be My Blue Moon." The Tale Of Enigmas is closer to her as the idea behind the book of unraveling the truths and exploring the inner instincts of people, cracked up her shell and forced her to pursue this book beyond any plan. I hope this little bag of pixie will quench your thirst for reading!