The Junior Section Speech Day at Auckland House School for Boys was a grand celebration of talent and achievement. The event took place in the school's auditorium and featured Mrs. Sarla Kant, Principal of Shimla Public School, as the esteemed Chief Guest. The occasion commenced with a warm welcome extended to Mrs. Sarla Kant by Mr. Michael A. John, Principal of Auckland House School for Boys.
Auckland House School For Boys Shines Bright On Junior Section Speech Day
The program kicked off at 10:00 a.m. with the traditional lighting of the lamp, symbolizing the enlightenment of young minds. The students from the lower primary section showcased their talents in a captivating cultural program. The program included an English musical play, a Hindi play, action songs, various dance performances, and soulful choir renditions.
During the event, Mr. Michael A. John, the school's Principal, presented the School Annual Report, highlighting the remarkable achievements and laurels earned by the school in various fields. Mrs. Sarla Kant, the Chief Guest, was deeply impressed by the students' performances and commended the hard work and dedication exhibited by both the staff and students.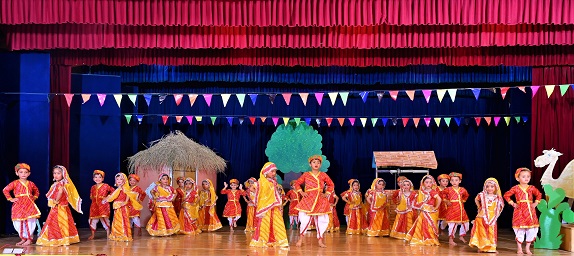 The event culminated with a prize distribution ceremony, where meritorious students were recognized and awarded under various categories. The entire gathering stood in unison to sing the National Anthem, closing the ceremony on a patriotic note. This Junior Section Speech Day at Auckland House School for Boys was not only a celebration of academic excellence but also a testament to the school's commitment to holistic development.
Theatrical Exercises to Improve Body Language & Mannerisms — Theatre Workshop in Arya Samaj School