Sangeeta Sambhi, Keekli Intern
It is not always important that everyone will be good at academics. But it does not even imply that the ones who are creative, should be supressed from expressing their creativity. Instead, everyone should help them grow.
Anadi Jain, a ninth grader is a student of St. Edwards School, Shimla, who is deeply fond of painting and making art work. He is enthusiastic to use different mediums of paints, such as acrylics, guash and sketching, and he has been doing so since his childhood. The first painting that he owns, is of his pre-school at the age of four, wherein he made busses, thereafter, he shifted towards making forts and castles. His art teacher, Ms Deepika, as shared by him, introduced him to the world of opportunities, wherein he participated in art competitions, and was also taught canvas painting. Back at school, Anadi is fond of studying science and maths.
According to Anadi, art is the idea of feeling light, relaxed and being playful with colours. For him, it is about putting his thoughts and imagination into practise. Nature and landscapes prove to be one of his major sources of inspiration. Not only this, he also learns to get a perspective from YouTubers and artists on Instagram itself. Gaux art, a channel of a 19-year-old YouTuber fascinates and inspires Anadi to a great extent, merely because he films, edits and posts any content with large amount of authenticity. Awestruck by his work, Anadi decided to create his own Instagram page, namely, paintings_with_poa. Here he has been posting his emotion-felt paintings in different colours, shapes, and sizes. His preferred form of art is acrylics painting, inspired from landscapes. He really enjoys working with canvases and wood. For him, the scope of art does not limit to acrylics, he also keenly keeps on trying various other mediums of paintings, such as sketch pens.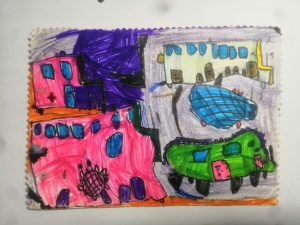 Holding the paintbrush and being all ready to paint, is a fun-filled emotion. Right from drawing the very first line of the painting, to creating shapes and then finally painting, is an emotion which is moreover felt than said, it is highly overwhelming. He says, it is the motivation of showing creativity, that proves to be the driving force for him to paint and thus knowing that hard work always leads to success. On being asked, if the skills that he holds, are inbuilt, or acquired by learning, he shares that initially, making paintings was joyful for him, but with practise, he has walked a long path of learning by doing, along with his teacher's guidance.
One of the finest achievements of his life as an artist, proves to be a state level competition, organized by SJVN, Shimla, where he got first position. The topic of the competition was, 'save energy', which is very much relative now-a-days. As stated by him, it proved to be a proud moment for him, as he had never participated in a competition which was being held at such a large platform. Not only this, his painting was gifted to General Bipin Rawat, while he was visiting his alma master, at St. Edwards.
Art for Anadi has a dual meaning. He finds midway in treating it as a hobby and as a stress buster. A hobby that he wishes to pursue as a career someday. His mantra of living a balanced life, is to paint whenever given a chance. In his words, "Just grab a canvas, sketchbook, taking up some sketch-pens, and paint." He is even-kneeled of giving his exams with full concentration. His future aspirations are to become an artist and take up big projects for the greater good of his growth. He also wants to take up mural art paintings and seek growth on his social media handles.