Click2Buy
Notion Press     Amazon Prime     Flipkart
These have been listed for online purchase.
Fiction Treasure Trove — paperback
https://www.amazon.in/dp/9394887172/ref=olp-opf-redir?aod=1
Kindle — https://www.amazon.in/Fiction-Treasure-Trove-Stories-Children-ebook/dp/B0BLWCKHHB/
Himachal ke Rang — paperback
https://www.amazon.in/gp/offer-listing/9394887164
Kindle — https://www.amazon.in/Himachal-Ke-Rang-Katha-Pachisi-ebook/dp/B0BLVD5LMS/
Fiction Treasure Trove
https://authorsupfront.com/product/fiction-treasure-trove-31-short-stories-by-children/
Himachal Ke Rang
https://authorsupfront.com/product/himachal-ke-rang-katha-pachisi-hindi-edition/
Governor Rajendra Vishwanath Arlekar Releases the Book — "51 Scintillating Tales" – Media Gallery
MEDIA COVERAGE
Governor Sh Rajendra Vishwanath Arlekar released the book "51 Scintillating Tales" in a program organized by Keekli Charitable Trust at the historic Gaiety Theatre, Shimla.

Award-winning stories of children from across the country have been selected and compiled in this book. pic.twitter.com/9uwLPQRyf8

— Raj Bhavan, Himachal Pradesh (@RajBhavanHP) November 14, 2021
https://www.tribuneindia.com/news/himachal/governor-releases-book-51-scintillating-tales-338266
https://www.5dariyanews.com/news/347591-Governor-Rajendra-Vishwanath-Arlekar-encourages-children-to-adopt-reading-habit
https://new-fr–24-com.translate.goog/divertissement/livres/13382.html?_x_tr_sl=fr&_x_tr_tl=en&_x_tr_hl=en&_x_tr_pto=sc
***
Its finally time to meet our young writers… their dreams, aspirations and wishes will all come true with the launch of this book… they poured their heart and soul while writing these stories… we hope you enjoy reading these as much as we did.
Sarah Dangwal – Was It Tinnitus?
Sharanya Penumalla – A Key To Cure
Shivangi Sharma – Loss and Hope
Shivansh Thakur – Four In Secret Cave
Shuban Dey – Agni's Great Rescue
Sikha Lakshmi Ksheeraja – A Scar
Sirisha Chauhan – The Masked Man
Sneha Chakraborty – The Gift of Empathy
Vasundhara Joshi – True Hallucinations
Yukti Sharma – वो महिला
***
Prachi Kaushal – फरेब
Rajvir Singh Pathania – Joy of Being A Ghost
Rayna – Stranded
Renée Pereira – The Story of Self-Belief
Ritisha Thakur – To Be Brave
Riya Malhotra – The Budding Archaeologist
Sampoorna Mitra – Mummy on Strike
Sanghavi Kapoor – कल करे सो आज कर
Sanskriti Rao – Hummed Melodies


***
Kavya Malik – Mirror Alluzo – Key to the Past & the Future
Kavya Sood – दयालु राजकुमारी
Kiaan Amrik Thakur – Young Ninja
Lavanya Muni – Sasha
Maanya Bali – The Crow Who Wanted To Be A Peacock
Midori Das – Lulu
Navya Sood – प्यारी जलपरी
Onjoli G. Shinde – The Silver Trinket
***
Bhawani Thakur – Chelsea's Adventure
Divyanshi – Do I Have the Diamonds?
Eira Lobo – Mia and Patch
Ekam Kaur – My Dream Come True
Harshita Rana – My Isolated Days
Ishan Balakrishnan – Boy With Scar of Death
Ishani Ghosh –  A Letter to the Future
Jiya Rampal Saini – मेरे बेजुबान साथी
***
Ananya Thakur – My First Day at School
Antra Gupta – नसीहत
Anushka Dhall – Walk in the Wild
Anvesha Malik – Mission Saving Techscope
Arhat Gulia – Adventures of a Boy During Lockdown
Astitva Hastir – Forsaken
Atharv Vats – My Life on Mars
Bhavya Choudhary – The Magical Mirror
***
Aadhya Singhvi – The Space Adventure
Aadya Ghosh – Aparajita's Achaar
Aarica Chauhan – The Door Behind the Dresser
Aarya Sharma – How Will It Be?
Aarzu Kumra – Believe In Your Dreams
Adya Awasthy  – एक अनोखा सफर
Aerin – Our Best Friend – Plants
Amiti Verma – The Adventures of Thalina
***
A work is always credited to its project head, but one cannot accomplish anything if it wasn't for the constant support and encouragement of those around us! Meet the highly dedicated Team who worked hard to make this dream come true for our 51 young authors — Keekli's Trustees; Mentors & Judges & our strong supporters.
***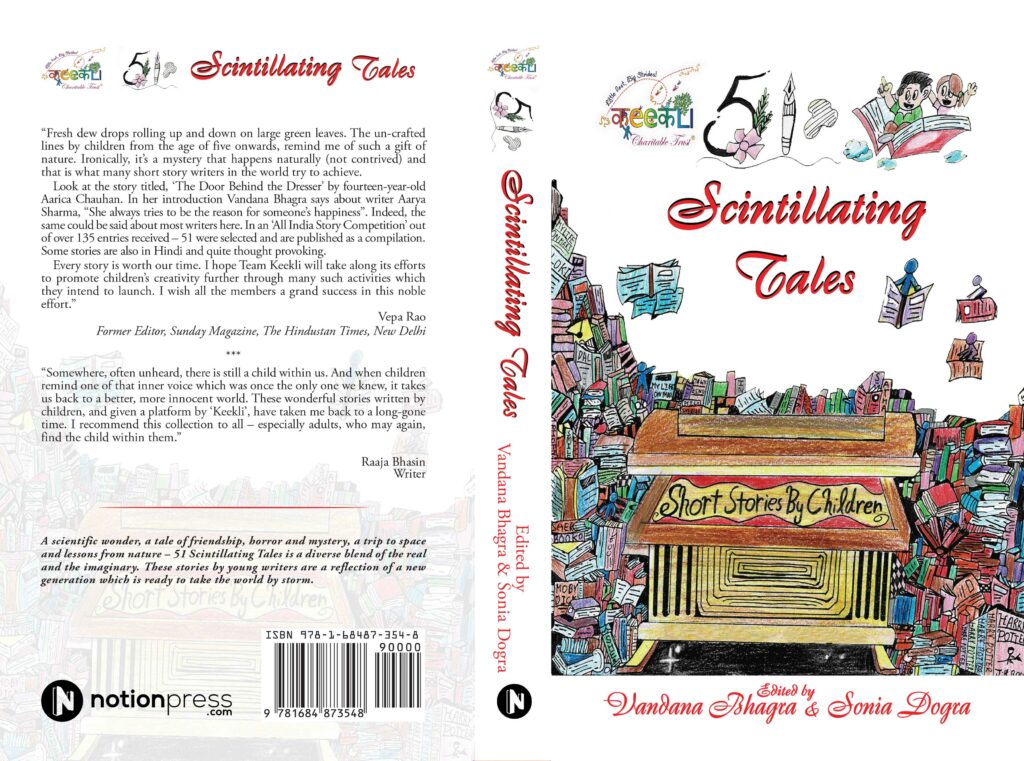 A mystery, a dream, a betrayal, a friendship… space, horror, nature, love and many more amazing themes form a part of this Anthology by young 51 Writers from different cities of India – to be precise, 20 schools spanning 14 cities speaks volumes about the efforts put in by team KEEKLI.
 A first look at soon-to-be released Book — 51 Scintillating Tales – Short Stories by Children; Edited by Vandana Bhagra & Sonia Dogra; Published by Keekli Charitable Trust, Shimla. The incredible Cover Art by one of our young twelve-year-old winner from New Delhi – Atharv Vats.
Wait & Watch for more….   
CLICK here to Read Event Details