Union Minister of State (Independent Charge) Science & Technology; MoS PMO, Personnel, Public Grievances, Pensions, Space and Atomic Energy, Dr. Jitendra Singh, has said India is committed  to achieve the Net Zero emission target by 2070, as announced by Prime Minister Narendra Modi.
"We are fully committed to contribute in attaining the United Nations Sustainable Development Goals (SDGs) – by way of Research and Innovation through international collaboration and partnerships," he said, participating in the 'Green Ribbon Champions' programme in New Delhi today.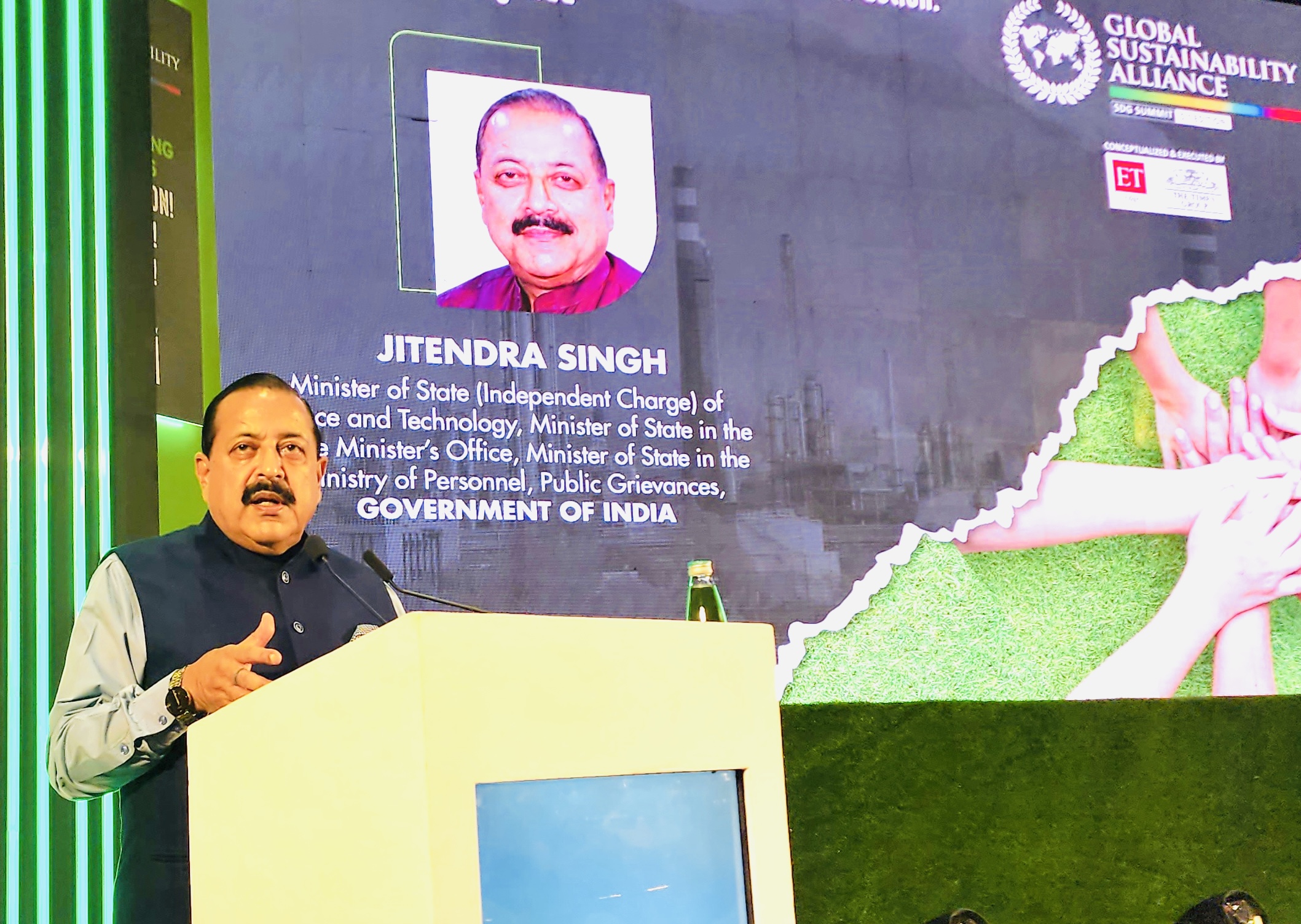 Dr Jitendra Singh said, India is set to achieve its short term and long term targets under the Panchamrit action plan, like- reaching a non-fossil fuel energy capacity of 500 GW by 2030; fulfilling at least half of its energy requirements via renewable energy by 2030; reducing CO2 emissions by 1 billion tons by 2030; reducing carbon intensity below 45 percent by 2030; and finally pave the way for achieving a Net-Zero emission target by 2070.
Dr Jitendra Singh said, PM Modi had at the 26th session of the Conference of the Parties (COP26) to the United Nations Framework Convention on Climate Change (UNFCCC) held in Glasgow, United Kingdom in November, 2021, expressed to intensify India's Climate Action Plan (CAP) by presenting to the world five nectar elements (Panchamrit) of India's climate action plan.
He said, apart from a five-pronged target for India and its commitment to Net-Zero emissions by 2070, PM Modi also asserted the need to follow a sustainable lifestyle and emphasised on the idea of making 'Lifestyle for Environment' (LiFE) a global mission through bolder steps by the global clean energy fraternity.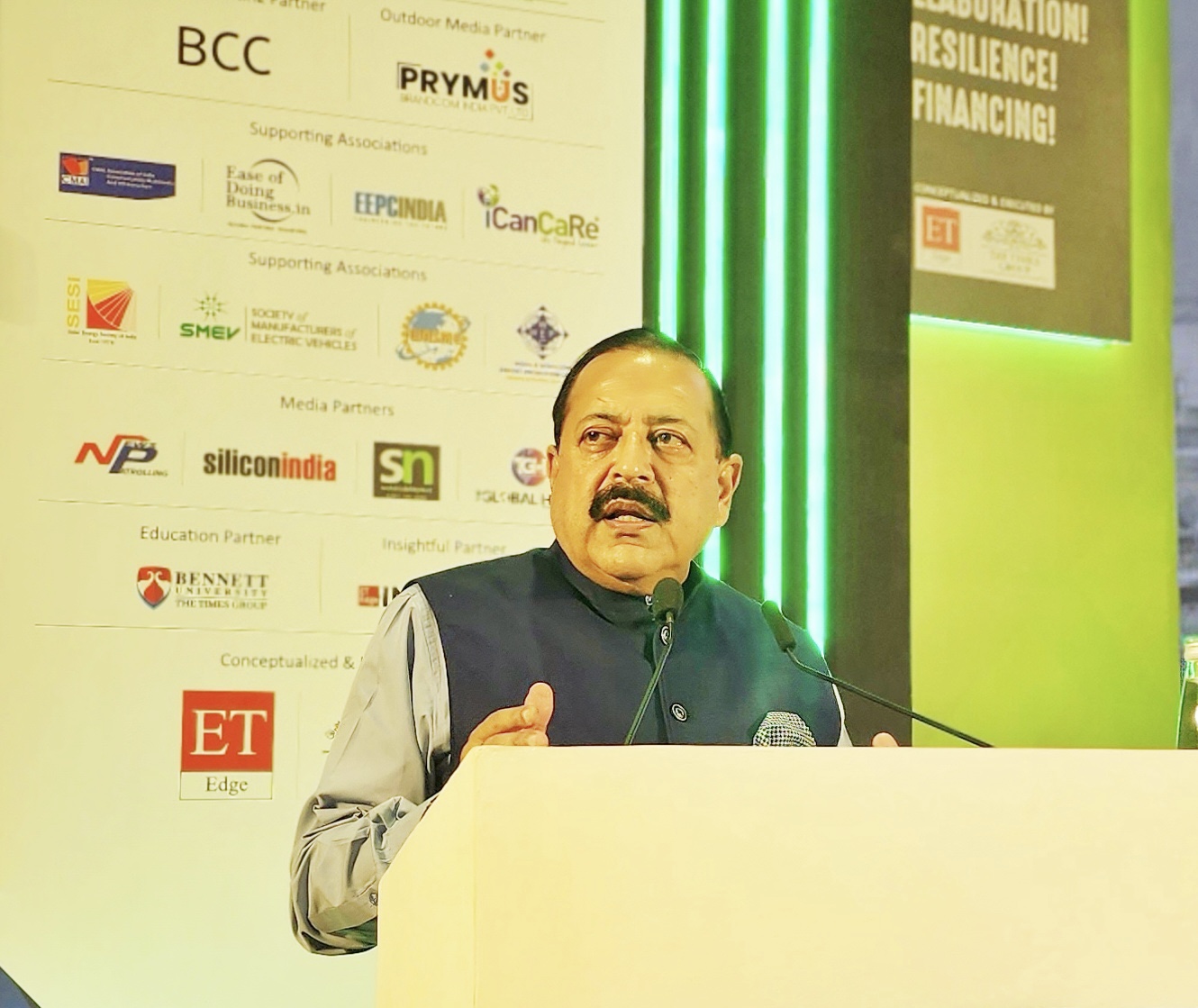 Dr Jitendra Singh said, the Mission Innovation (MI) and International Solar Alliance, spearheaded by PM Modi, were announced at COP21 in 2015, when the United Nations conferred on him the 'Champions of Earth Award 2018.'
The term 'Mission Innovation' was coined by PM Modi. Mission Innovation (MI) is a global initiative of 23 countries and the European Commission (on behalf of the European Union) to accelerate the Clean Energy revolution and progress towards the Paris Agreement goals and pathways to net zero. India is a founding member of Mission Innovation.
The first phase of Mission Innovation (MI) (2015-2020) was announced at COP21 on November 30, 2015. In the first phase of Mission Innovation, India led three MI Innovation Challenges, such as Smart Grids, Off Grid Access to Electricity and Sustainable Biofuels, and hosted many workshops.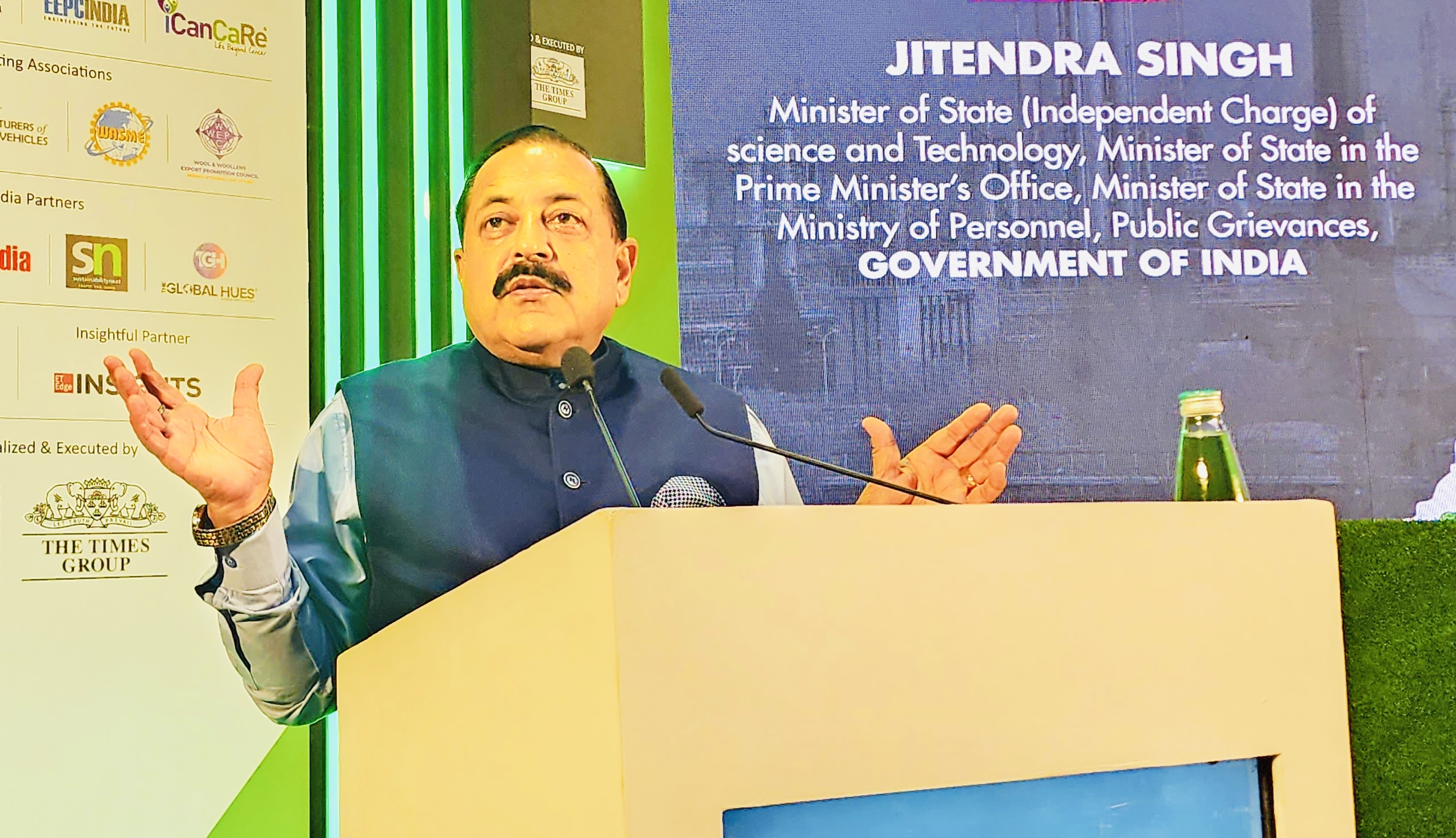 Dr Jitendra Singh said, Government of India through Public-Private Partnerships is ensuring the funding for clean energy innovations as envisioned under Mission Innovation 2.0. He said that the Clean Energy Ministerial (CEM) setup has been able to provide a unique opportunity for India to showcase its contribution to clean energy development nationally & internationally and quoted some major CEM initiatives which includes CEM's Global Lighting Challenge (GLC) campaign, Street Lighting National Programme, Unnat Jyoti by Affordable LEDs for All (UJALA) programme and the 'One Sun-One World-One Grid' Initiative which was first floated by the Prime Minister to harness tremendous potential of solar energy.
Referring to the G20 Summit earlier this month, Dr Jitendra Singh said the New Delhi Declaration committed itself to implement India's initiative of 'Lifestyle for Environment Mission' (LiFE) and promote Artificial Intelligence towards achieving the UN SDGs. By adopting the 'Green Development Pact,' G-20 has also reaffirmed its commitments to sustainable and green growth.
The Union Minister said that the Global Biofuels Alliance (GBA) to be led by India, Brazil and the United States, as leading biofuel producers and consumers, will greatly help achieve the MDG Goals of India turning Net Zero by 2070.
"GBA is a landmark achievement agreed to by the leaders of Singapore, Bangladesh, Italy, USA, Brazil, Argentina, Mauritius and UAE, at the initiative of PM Modi on the sidelines of the G20 Summit. GBA aims to serve as a catalytic platform, fostering global collaboration for the advancement and widespread adoption of biofuels," he said.
Dr Jitendra Singh said India stands at the forefront of addressing the global challenge of Climate Change and has committed to an ambitious Nationally Determined Contributions (NDCs) of reducing emission intensity by 33-35% in 2030 against the levels of year 2005.
"India has remained steadfast in its transition towards clean energy, achieving the fastest pace of renewable capacity addition amongst all major economies and ambitious transition goals articulated by Prime Minister Modi, in India's Panchamrit declaration at COP26," he said.
The Union Minister said that the last nine years have witnessed the Indian crusade against climate change. "We have already achieved our commitment of 40% energy production from renewable sources, way ahead of the 2030 Paris Agreement target," he said. The Minister reiterated India is implementing the largest Renewable Energy (RE) expansion program in the world, envisaging a 5-fold increase in the overall RE capacity.
He added that apart from the thrust on renewable energy from solar and hydel, the Prime Minister announced major strides in Hydrogen energy in his Independence Day Address from the ramparts of the Red Fort on 15th August 2021. India also launched the National Hydrogen Energy Mission to enable cost competitive green hydrogen production.
"India's energy-mix strategies include a larger shift toward clean energy alternatives, increased manufacturing capacities, energy use efficiency and a policy push for Hydrogen including production-linked incentives. In addition, the emerging technologies like 2G Ethanol Pilot, Comfort climate box for tropical regions, Hydrogen Valleys, Heating and cooling virtual repository, are all on the table," he said.
Dr Jitendra Singh said India has developed a roadmap and a strategy for a Bio-based economy which is inching towards 150 billion USD by the year 2025. Department of Biotechnology has been supporting R&D innovations in Advanced Biofuels and 'Waste to Energy' technologies. India has established 5 Bioenergy Centers with an interdisciplinary team working on advanced sustainable biofuels using modern biotechnology tools.
"This will facilitate infrastructure for Bio-manufacturing of low-carbon bio-based products. Sustainable biofuels play a key role in reducing Green House Gas (GHG) emissions from the transport sector," he said. Dr Jitendra Singh said, India is among the few countries in the world to design a Cooling Action Plan (CAP) with a long-term vision (spanning a 20-year period from 2017-18 to 2037-38) that addresses cooling requirements across sectors.
"CAP identifies possible actions to reduce cooling demand arising from residential and commercial buildings, cold chains, etc., covering aspects of building design and technological innovations that do not compromise on energy efficiency," he said.
Recalling that he launched India's first truly indigenously developed Hydrogen Fuel Cell Bus developed by KPIT-CSIR in Pune on 21 Aug 2022, Dr Jitendra Singh said the painstaking efforts undertaken over the last two years since the Prime Minister had announced India's intention to create a dedicated mission for Green Hydrogen, culminated in the announcement of the National Green Hydrogen Mission with a budgetary outlay of about 2.4 billion dollars in January this year.
He said that a draft R&D Roadmap for Green Hydrogen Ecosystem in India has been released. A PPP framework for R&D called the Strategic Hydrogen Innovation Partnership or SHIP will be facilitated under the Mission.
"India is uniquely poised to emerge as a prominent global leader in production of Green Hydrogen not just on the basis of its abundant renewable energy resources and the benefits of one of the world's lowest costs of regeneration, but also because of its R&D ecosystem and the framework designed for R&D in cross-cutting sectors of hydrogen production, transport, electrolyze manufacturing, support infrastructure, fuel cell EVs, storage and utilization," he said.
Dr Jitendra Singh further said that nearly 9% share of electricity is likely to be contributed from India's nuclear sources by the year 2047. The Department of Atomic Energy aims to achieve 20 GW capacity of nuclear power generation by the year 2030 which will be a major milestone placing India as the third largest producer of atomic energy in the world after the USA and France.
"Credit for this rapid stride goes to Prime Minister Narendra Modi, who for the first time after Independence took the decision of approving 10 reactors in fleet mode in a single order and allowed nuclear installations to be developed under joint ventures with PSUs. As a result, today India is sixth largest in the world in the number of reactors that are functional and second largest in the total number of reactors including those under construction," he said.
Dr Jitendra Singh mentioned sustainable practices in fisheries, marine research, coastal tourism and renewable energy generation. He said, by harnessing the potential of the Blue Economy, we can ensure the well-being of our oceans while driving economic development in a sustainable and responsible manner. We are also concerned about increased plastics and microplastics in our oceans, another important area to focus as it enters into our food chain as several marine organisms consume them.
Dr Jitendra Singh said, the National Research Foundation (NRF) Bill, 2023, passed by the Parliament in the last monsoon session, will promote the culture of research and innovation throughout India's universities, colleges, research institutions, and R&D laboratories at a total estimated cost of Rs. 50,000 crores during five years and this will give further impetus to Clean energy research in India and Mission Innovation. As much as 70% of its funding will come from non-governmental sources, he said.
Dr Jitendra Singh said, despite efforts by countries to check and reduce emission of greenhouse gases, the global average temperature in 2100 is expected to rise to around 2.1°C above pre-industrial levels. The Minister pointed out that this falls short of the goals stipulated in the Paris Agreement, which calls for limiting the global temperature to 1.5°C above pre-industrial-era levels by the end of the century.
Dr Jitendra Singh said, Precision irrigation, Innovative clean water technologies, such as water purification systems, desalination techniques, and wastewater treatment technologies are to be further augmented and implemented. 
CRIIIO 4 GOOD: A Cricket-Powered Initiative For Gender Equality With ICC and UNICEF