HC Rai Centenary ArtsFest from October 18 to 22, 2023; A Collaboration of Abhivyakti & Department of Language and Culture, H.P.,
The ArtFest celebrates Late Sh. H. C. Rai's remarkable legacy that has left an indelible mark on Himachal's artistic landscape. He has been awarded Sardar Soba Singh Lifetime Achievement Award by the H.P. Government, and was also the Founder Principal of RKMV College, Shimla and H.P. Govt. College of Arts, Shimla. Various art workshops and competitions will be held for children and adults by eminent artists along with seminars on Art and an Exhibition of 250 of art work in the Tavern Hall and Lalit Kala Akademi Hall, Gaiety Theatre.
Details of the Workshop & Competition for Children
Date: 19-10-2023 Time: 10 am to 1 pm
Workshop time: 10 am to 12 noon
Competition: 12 noon to 1 pm
Venue: Gaiety Theatre (Lalit Kala Exhibition Hall)
Categories: Junior (Classes 3 to 6); Senior (Classes 7 to 10); Two Participant only per School
Medium: Poster colours and Crayons
Note:
Students will bring their own colours, brushes and a bowl for water. Art Paper will be provided.
Carry your water bottles.
Refreshments will be provided.
Students must be accompanied by at least one school teacher.
Limited seat; share details of the participants at the earliest through email.
For any queries, email or call us –

[email protected]

; [email protected]; [email protected]
Children will benefit from these Art workshops as they will learn new techniques, which will encourage them to experiment with their art works and innovate their own techniques and styles. The results will be announced next day via email. The prizes will be distributed be held on 22nd October at 11 am at Gothic Hall (Gaiety Theatre).
Children's Art Workshops & Competitions to Illuminate HC Rai Centenary ArtsFest
In 1994, Abhivyakti was born in the heart of Shimla with a noble mission – to foster art and culture in the state of Himachal Pradesh. Registered under the number 4/94, this organization embarked on a remarkable journey that has left an indelible mark on the cultural landscape of the region.
Abhivyakti's journey commenced with numerous theater productions across the country, collaborating with college and university students as well as working professionals. From 1995 to 1999, they extended their outreach to include theater, poetry, and craft workshops for the inmates of Kaithu Sub-jail in Shimla. Simultaneously, Abhivyakti initiated theater workshops for school students, promoting awareness of science and technology in partnership with the Department of Science and Technology of Himachal Pradesh.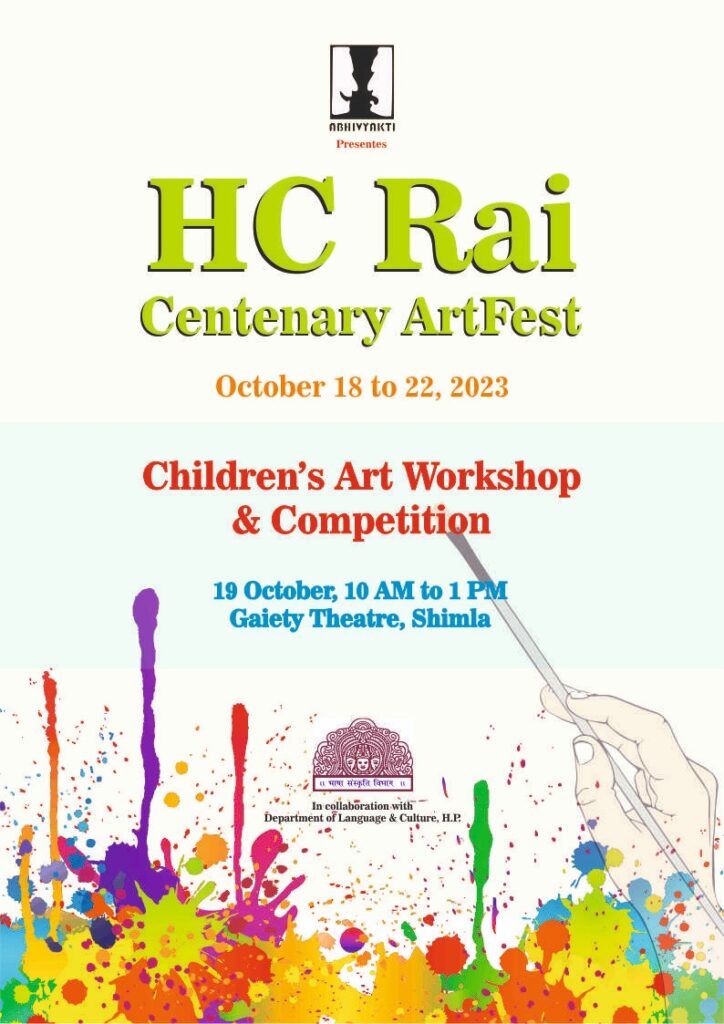 "Abhivyakti": Promoting Art and Culture In Himachal Pradesh – A Legacy Of Creativity
Their dedication was rewarded in 1996 when Abhivyakti received a grant-in-aid from Sangeet Natak Akademi for producing Bhishm Sahani's "Kabira Khada Bazaar Mein" and Euripides's "Medea" in 2005. The year 2020 marked the commencement of major theater activities in Raudi, Dharampur, Solan district. However, the global COVID-19 pandemic in March 2020 brought these activities to a halt.
Abhivyakti, determined to make a positive impact, resumed operations in July 2021, offering a 45-day workshop in dance, music, and theater. After captivating local audiences with two shows, the participants were invited to perform in the 75th Independence Day celebrations by the SDM, Kasauli.
From December 2021 to February 2022, Abhivyakti conducted another production-oriented workshop, training 30 students from nearby villages in acting, voice and speech, dance, and music. This training culminated in a performance of "Kazi Ji Ka Bhesh," a folk play in the Pahari dialect, infused with local folk theater elements such as 'Dhaja' and 'Kareyala' on February 27th and 28th, 2022.
Abhivyakti continued to enrich the cultural fabric of Himachal Pradesh by organizing an Inter-Panchayat cultural competition, where children and young adults from 22 nearby villages showcased their talents in local folk dance, folk music, Bollywood dance, solo singing, and short skits addressing environmental and girl child issues.
July 2022 saw the organization host a workshop on poetry writing, reciting, and performing, focusing on the theme of 'nature and environmental protection.' Participants presented their poems to local audiences using physical theater, vocal sounds, and live music.
In August 2022, Abhivyakti organized a workshop on the Chau movement, leading to the creation of a theater production based on Chau movements, vocal sounds, live music, and singing. The production, "Jungle Jatakam," drew inspiration from Dr. Kashinath Singh's short story and featured participants' skills in costume making and set design. The shows took place on September 3rd and 4th, 2022.
The beginning of 2023 saw Abhivyakti being invited by the Department of Language and Culture (H.P.), Shimla, to perform at the historical Gaiety Theatre of Shimla. Audiences were treated to performances of "Kazi Ji Ka Bhesh" and "Jungle Jatakam," leaving them enthralled and appreciative.
From February 2023 onwards, Abhivyakti has been conducting ongoing classes for local young adults and children, offering training in acting, English speaking, speech, and personality development.
Currently, Abhivyakti is gearing up for an exciting endeavor—an art fest in Shimla at the historic Gaiety Theatre. This five-day festival will feature renowned artists and art scholars from across India, with seminars and various art competitions for children, young adults, college and university students, and the general public in sketching, drawing, painting, sculpture, and decorative art.
The festival will also include a five-day exhibition showcasing the artworks of Himachal Pradesh's eminent and awarded artist, Late Harish Chandra Rai. Through this grand art fest, Abhivyakti aims to spark interest in art activities and empower individuals to express themselves through various artistic mediums, creating aesthetic experiences that resonate with the soul.
Abhivyakti remains steadfast in its dedication and commitment to promoting art and culture in Himachal Pradesh, particularly focusing on enhancing the lives and personalities of adults, youth, and children from villages through a rich tapestry of art and culture activities.
About Harish Chandra Rai
Born on May 27, 1923, in Bareilly, Late Harish Chandra Rai displayed a passion for art at a young age. Educated at Government School of Arts, Lucknow, and Sir J.J. School of Arts, Mumbai, Rai excelled in various art forms, including portraiture, landscape, still-life, and sculpture, experimenting with different media like watercolor, pastels, and oils. He was also deeply interested in Indian and Western aesthetics, iconography, and poetry. Late Harish Chandra Rai's artworks adorn many corners of the world, and his artistic legacy continues to inspire.
IFFS 2023 Celebrates Cinema's Artistic Diversity And Cultural Exchange